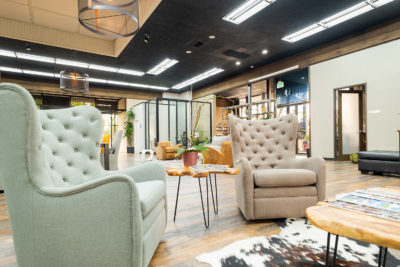 THE DIFFERENCES BETWEEN SHARED WORKSPACES AND COWORKING SPACES
Self-employment is liberating, but for some, it can also get pretty lonely. Working from home in isolation all day can make it difficult to concentrate and tank your productivity. Not to mention, when your office is also the place where you eat, sleep, and relax, the lines between your personal life and professional life get blurred, disrupting your work-life balance.
Whether you're a freelancer, contract worker, or small business owner, joining a coworking center can help you get out of the house and connect with other creative, industrious professionals who motivate you to do your best work. If you're ready to take your business off the sofa and into a business-minded atmosphere, your two most popular choices for a shared environment are coworking spaces and shared workspaces.
Coworking spaces vs. shared workspaces
A coworking space offers a communal atmosphere for entrepreneurs to work side by side. There is usually an array of seating areas, including desks, couches, and shared tables in common rooms, along with amenities such as high-speed internet service, office supplies including a printer, scanner, and copier, kitchen and bathroom facilities, and access to private conference rooms when needed.
Shared workspaces, on the other hand, tend to provide many of the same amenities as coworking spaces with the added perk of your own private office. While you can still enjoy the camaraderie and socialization that coworking environments have to offer, you'll also have a dedicated space where you can store your belongings, meet with employees and clients, and work independently.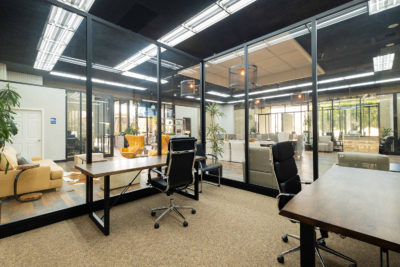 Why choose a coworking space
Coworking spaces are generally less expensive than shared workspaces, so if you're looking to keep your overhead low, they might be the best choice for you. You might also want to choose a coworking space if:
For people who enjoy working in vibrant atmospheres, the inherently social aspect of a coworking space can be a big perk. While common areas can get a bit noisy at times, you'll also benefit from the collaborative energy, and potentially establish great contacts in your industry.
Many freelancers and telecommuters enjoy coworking spaces because they don't need – or want – to be tied down to a single place. This type of work environment is highly compatible with people who are used to being mobile, can be productive in different types of workstations, and don't need permanent office storage outside their home.
If you don't hold private meetings regularly, a coworking space may be a good fit for you.  Most offer the option to reserve private conference rooms when you need them. And if you start expanding your small business or meeting with clients consistently, you can upgrade to the privacy and reliability of a shared workspace when the time comes.
Why choose a shared workspace
If you prefer a bit of privacy, and your budget allows for it, a shared workspace may be more appropriate. Some of the reasons you may want to choose a shared workspace:
You host regular meetings
If you're a small business owner with employees, or you have a growing number of clients with whom you need to meet frequently, a shared workspace offers a quiet, private place to host them.
Whether you require storage for your business materials, or you're just not comfortable working in a different, unpredictable workstation each day, you'll have your own dedicated desk in a private office. check out our prices: private office space for rent 
You want to connect with other entrepreneurs
Traditional office spaces don't come with all the amenities, social connections, and networking opportunities of a coworking center. Shared workspace gives you the best of both worlds, allowing you to socialize when you want to, and close your office door when you need some privacy.
Synergy Centre Coworks offers a variety of flexible workspaces
Whatever your preference for working outside your home, Synergy Centre Coworks in Escondido can provide you with the perfect environment to boost your productivity in a creative and collaborative atmosphere. We offer shared workspaces and flexible coworking, as well as meeting rooms and event spaces for rent.
To schedule a tour of our facilities, call Synergy Centre Coworks at760-781-1393.