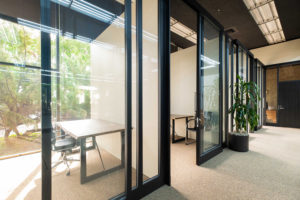 Is there room for my company to grow?
Even the largest companies started out small—Amazon and Microsoft were both launched in garages. But growth can be unpredictable. Whether you expect to hire more employees within a month or a year, the coworking space you choose should be flexible enough to accommodate your company at the size it is now, and the size it will be in the future. At Synergy Centre CoWorks, we offer private office space, shared office space, or flex space, and this variety of workspaces provides you with increased flexibility. All space options are scalable, which means your space can grow with your business, and our month-to-month leases allow you to quickly scale up as needed.
Is it the right location for my key employees?
One of the biggest concerns for entrepreneurs and small business owners who are considering coworking is how the space will affect productivity. Some businesses and employees might need a distraction-free workplace, while others might benefit from collaboration and networking. Fortunately, many coworking spaces offer a variety of workspace options, and you can even lease more than one type to accommodate different types of workers. Synergy Centre CoWorks provides private office space when seclusion is preferred, or shared office space when collaboration is necessary. And if your business has remote workers who are only required in the office sporadically, Synergy offers flex office space with daily and weekly memberships.
Is the location convenient for clients?
Image and branding are incredibly important to both emerging and established businesses, but start-ups and new companies in particular need to exude professionalism when courting potential clients. As such, meetings in your garage, home office, or local coffee shop aren't the best look. Synergy Centre CoWorks provides meeting space rentals that are perfect for giving presentations to clients and possible investors, interviewing prospective employees, and even holding brainstorming sessions with your team. Conference room rentals also include audio and video equipment, WiFi-enabled smartboards, plus coffee service to impress clients and employees alike.
Does this office send the right signal?
Many entrepreneurs and start-ups suffer from "imposter syndrome," stirring up unjustified feelings of inadequacy. Working out of your garage or a coffee shop table doesn't offer much of a confidence boost, but working in a professionally appointed coworking space offers a sheen of success even if your company is still working toward its goals. Synergy Centre CoWorks also provides a professional mailing address, receptionist, and access to meeting rooms, event space, and even a podcasting studio, all of which are sure to send the signal that your company is the real deal.
What is the parking situation?
Parking might be low on your priority list when looking for coworking space, but it's more crucial than you might think. One advantage of multi-year leases in large office parks is guaranteed parking, and as a business owner you'll want to ensure that parking isn't a struggle for your employees and clients. Many coworking spaces have reserved parking for tenants along with visitor parking, and Synergy CoWorks has ample parking available in a safe lot—which also means you and your employees won't be late to meetings because you're driving around looking for a parking spot.